Day 5: Young People Strut Their Stuff at Intergenerational Workshop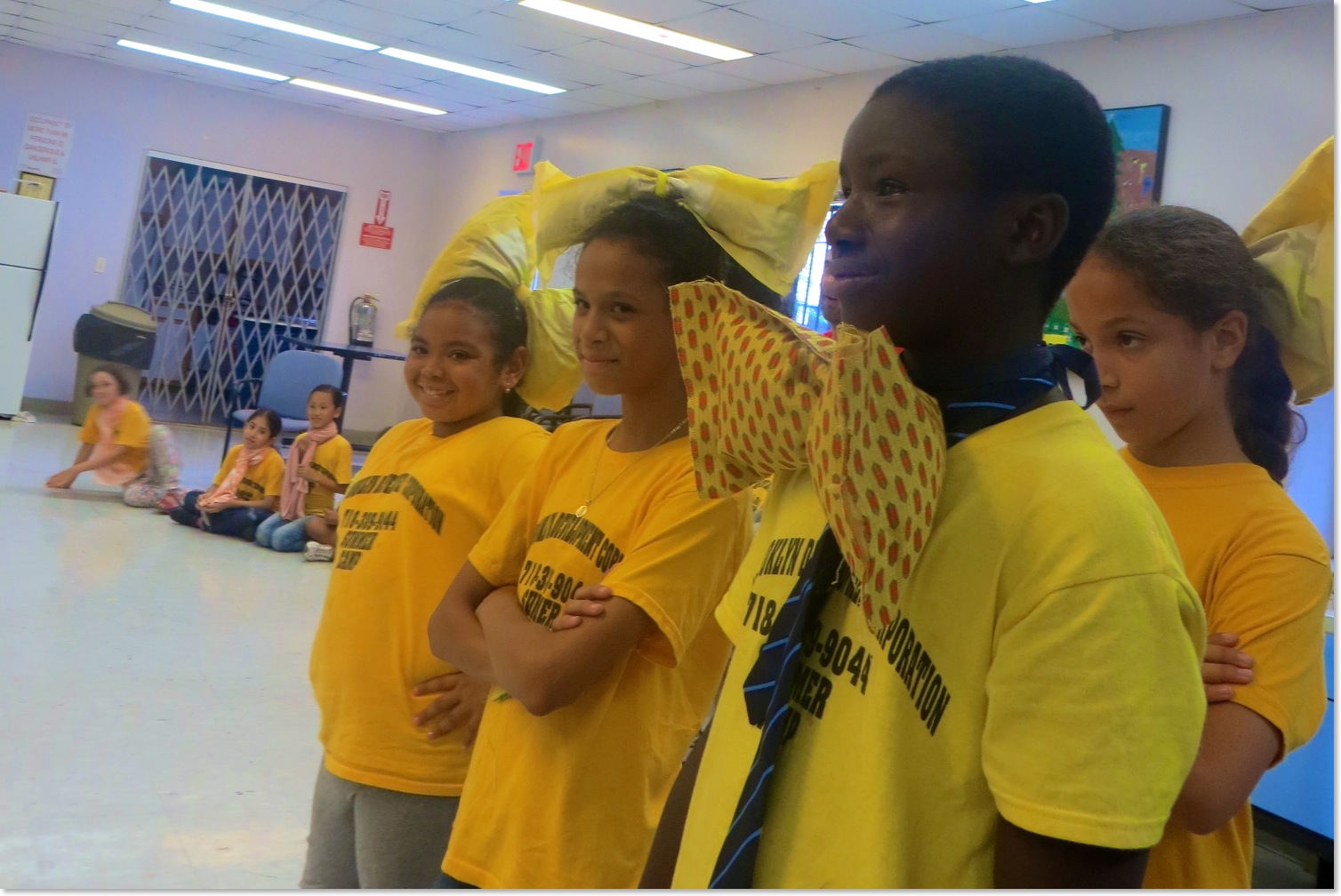 By
Sherry Teitelbaum

A highpoint of the
Newtown Creek Celebration
each summer is our intergenerational workshop where the 4th and 5th graders participating in the project visit North Brooklyn Development Corp.'s Dupont Senior Housing unit. They work side by side with the older adults that reside there to create puppets, costumes or props for use in the outdoo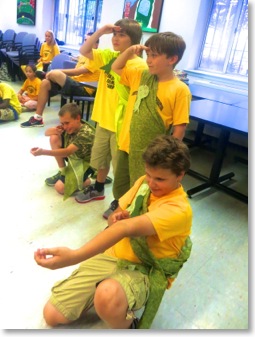 r performance at McGolrick Park. This year Heather and Kevin brought over bags stuffed with recycled fabric from
Materials for the Arts
. Young people and older adults worked together to trace, cut, iron, stuff and drape costume elements which suggested the four neighborhood groups that the young people will be playing in Part 3 of the performance: bright scarves for the artists; bow-ties and ribbon bows for the teachers; oversized ties for the business people; and sashes and medals for the military. Then Kevin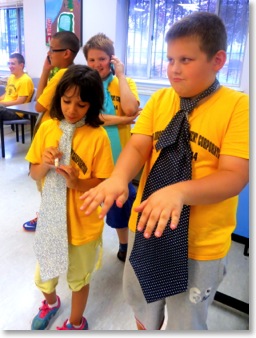 led a session of instantaneous playbuilding as young people created an impromptu fashion show to showcase the new costumes. Kevin narrated the story of balancing competing neighborhood interests as Camp Director Kasia Selwesiuk-Swietochowski translated into Polish. The thirteen older adults laughed and applauded as the young people strutted their stuff and struck tableau poses which were characteristic of each interest group. The fashion show was not only fun, but gave us a leg up on devising, which starts in earnest on Monday.
What's It All About?
Newtown Creek Celebration: Puppet Parade and Pageant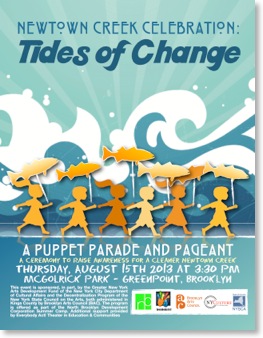 is a free, ten-session theater and puppetry project for over 80 young people enrolled in North Brooklyn Development Corporation's Summer Day Camp. Over the course of ten days, we work with youth to create an original puppet parade and pageant that explores issues relating to the pollution of Newtown Creek and the effect pollution has on the surrounding Greenpoint community. Each day, Heather, Sherry and I see four different groups of approximately 20 youth participants ranging in age from 5 to 11. During our session time, we work toward building puppets with the youth, then putting the puppets into the young peoples' hands to devise an original show based on the theme:
Tides of Change
.
Come and see our show!
If you would like to attend our free performance.
Visit our Facebook Event page by clicking here
. Let us know you are coming or post an encouraging comment on our event page. We hope to see you there.
Make a Donation Today!
Our crowd funding campaign is off to a great start! Thank you so much to everyone who has already contributed. We are offering lots of different perks to folks who support the project including our 2013 poster, photos of the culminating event, or a puppet from the show to take home! If you would like to make a donation, click on the widget to the right or
click here
. If you want to support the project but can't make a financial contribution, there are other ways to help out!
Visit the campaign page and click the "like", "tweet", or google plus icons to spread the word about our campaign to your friends on social media.
Post a comment at the end of this blog.
Forward this blog post to other people you think might like to hear about our work.
This event is sponsored, in part, by the Greater New York Arts Development Fund of the New York City Department of Cultural Affairs and the Decentralization Program of the New York State Council on the Arts, both administered in Kings County by Brooklyn Arts Council (BAC).